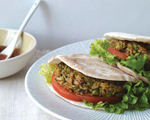 Prep: 15 min
Cook Time: 10 min
Total: 25 min
Serving: 4 Servings
These veggie burgers made with hearty brown rice, peas and roasted pumpkin seeds are both flavorful and satisfying. Serve in warm pita bread pockets topped with lettuce, tomato, sour cream and salsa.
Ingredients
1 packed cup cooked brown rice, 8-1/2 ounces warmed
1/2 cup shredded Monterey Jack cheese
1 chipotle in adobo
Sea salt
1 large poblano chile opped, about 5 ounces seeded and finely chopped
2 scallions, thinly sliced
1/2 cup frozen peas, thawed
1/4 cup salted roasted pumpkin seeds, pepitas
Vegetable oil, for brushing
Directions
Prepare a grill on medium heat.
Place three-fourths of the rice with the cheese, chipotle and 1 teaspoon of salt into a food processor and process until the mixture becomes slightly pasty in texture. Add the poblano, scallions, peas and pumpkin seeds to the mixture and pulse again until chopped.
Transfer the mixture to a bowl and then add the remaining rice. With clean and slightly wet hands, shape the mixture into 4 patties and then brush on both sides with some vegetable oil; place on the prepared grill. Cook the veggie burgers for 5 minutes, flip and then cook for an additional 5 minutes more. Serve immediately.