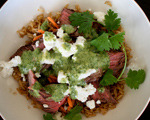 Prep: 10 min
Cook Time: 15 min
Total: 25 min
Serving: 4 Servings
This dinner dish is a hearty and comforting mix of brown rice, steak, feta and vegetables drizzled with a tasty tahini dressing made with fresh cilantro. Enjoy it with a bottle of Zinfandel for a complete meal.
Ingredients
2 cups uncooked brown rice
4 cups vegetable (or chicken) stock
1 teaspoon sea salt
1 pound skirt steak
1 cup shredded carrots
1/2 bunch green onions, thinly sliced
1/2 cup golden raisins
1/3 pound feta cheese, crumbled
2 tablespoon tahini
tablespoon
1/4 cup olive oil
1 cup cilantro, chopped
Directions
Prepare the oven broiler.
Cook the rice according to package directions, substituting the water for the vegetable stock.
In the meantime, sprinkle the steak on both sides with salt and pepper, and then place in the oven. Cook the steak for 7 minutes on each side, or to desired doneness, and then transfer to a cutting board and let rest for 5 minutes before slicing into thin strips.
Place the tahini, vinegar, olive oil and cilantro into a food processor or a blender, and process on high until the mixture is smooth.
Combine the rice, carrots, onion, raisins, steak and feta in a bowl. Season the mixture to taste with salt and pepper and then drizzle with the dressing. Serve immediately.