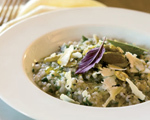 Prep: 45 min
Cook Time: 40 min
Total: 1 hr 25 min
Serving: Makes 12 Servings
This slightly nutty and creamy rice side dish has a bright lemony flavor that pairs well with the salty bite of the green olives. Garnish with aged goat cheese shavings and serve warm.
Ingredients
2 tablespoons extra-virgin olive oil, plus more for drizzling
2 medium onions, finely chopped
6 cloves garlic, minced
10 cups water
3 cups short-grain brown rice
1 thyme sprig
1 bay leaf
Sea salt
1-1/2 cups pitted small green olives, halved 6 ounces
1/2 cup chopped flat-leaf parsley
1/4 cup chopped basil, plus 24 basil leaves for garnish
3 tablespoons fresh lemon juice
1 tablespoon grated lemon zest
Freshly ground pepper
4 ounces aged goat cheese, shaved with a vegetable peeler
Directions
Place the olive oil in a large saucepan over medium heat. Once the oil begins to shimmer, add the onion and the garlic and sauté for 8 minutes. Stir in the water, rice, thyme and bay leaf and bring the mixture to a boil. Cook for 1 minute and then remove the mixture from the heat, cover and set aside for 35 minutes.
Place the saucepan back over medium heat and sprinkle the mixture with a few pinches of salt. Cook the rice for about 30 minutes, or until the liquid has been absorbed, and then remove from the heat.
Remove and discard the bay leaf and the thyme, and then add the olives, parsley, chopped basil, lemon juice, lemon zest and a few pinches of salt and pepper. Stir the mixture to combine and then serve drizzled with olive oil and topped with the goat cheese and fresh basil.