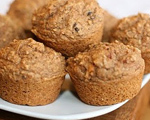 Prep: 10 min
Cook Time: 22 min
Total: 32 min
Serving: Makes 12 muffins
Brown rice, otherwise known as 'hulled rice,' has a nuttier flavor and chewier consistency than white rice. It is also considerably more nutritious so try to use it instead of the over-processed white variety.
Ingredients
1-1/2 cups stone-ground cornmeal
3/4 cup cooked brown rice
1/2 cup all-purpose flour
1-1/2 cups buttermilk
2 tablespoons flaxseed
2 tablespoons vegetable oil
1 teaspoon baking powder
1/2 teaspoon salt
1/2 teaspoon baking soda
3 egg whites
Directions
Preheat your oven to 400 degrees and grease a muffin tin with cooking spray.
Place all of the ingredients into a large bowl and beat well to combine.
Spoon the batter into the prepared muffin tins; place into the oven for 22 minutes to bake. Remove the muffins immediately from the pan and place on a wired rack to cool.