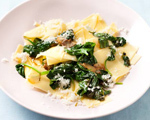 Prep: 10 min
Cook Time: 12 min
Total: 22 min
Serving: 4 Servings
Break up regular squares of lasagna into various shaped pieces to create this modern looking pasta dish with garlic and spinach.
Ingredients
9 lasagna noodles (8 ounces), broken into small pieces
4 tablespoons extra-virgin olive oil
6 cloves garlic, slivered
6 ounces baby spinach
Sea salt and freshly ground black pepper
1/2 a lemon, juiced
1/4 cup shredded Parmesan cheese
Directions
Cook the lasagna according to package directions, drain and then place back into the cooking pot. Drizzle with 1 tablespoon of oil and toss to coat.
In the meantime, place a large sauté pan over low heat and add the remaining oil and garlic. Cook the mixture for about 10 minutes, and then add the spinach and remove the pan from the heat; cover and let sit for 2 minutes.
Stir the cooked pasta into the spinach mixture and add a few pinches of salt and pepper and the lemon juice. Toss to combine and then serve immediately topped with the Parmesan cheese.