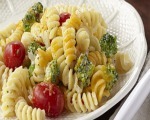 Prep: 25 min
Cook Time: 15 min
Total: 40 min
Serving: Serves 6 people
A colorful and lower-fat version of traditional mac & cheese, Broiled Mac & Cheese with Veggies is a delicious dish any time!
Ingredients
10 ounces of curly macaroni
1 cup cherry tomatoes
1-1/2 cups of broccoli florets, chopped
1/4 cup chopped onion
1 cup low-fat ricotta cheese
2 tablespoons grated Parmesan cheese
1/2 cup shredded cheddar cheese
1 clove of garlic, minced
1 tablespoon of extra-virgin olive oil
Pinch of crushed red pepper
Non-stick cooking spray
Directions
Use a medium-sized saute pan to heat the olive oil over medium-low heat. Add the broccoli and onions. Cook, stirring, until tender. Add the tomatoes and garlic cook for another minute. Remove from heat and set aside.
Heat a large pot of water until it boils. Add the pasta and cook until al dente or firm, about 10 minutes. Drain and reserve about 1/2 cup of the water. Keep the pasta in the colander.
Using the pasta pot, whisk the ricotta and 1/4 cup of the reserved water over medium heat until smooth. Add the vegetables and Parmesan cheese. Sprinkle with the crushed red pepper. Stir all together. Add the pasta and combine well. Add the remaining 1/4 cup of the pasta water. Heat everything until warm throughout.
Coat a 9x13-inch baking pan with the non-stick cooking spray. Adjust oven rack so there is about 3 inches between the broiler and the top of the baking pan. Preheat the broiler.
Spread the pasta mixture across the baking pan. Sprinkle with the cheddar cheese. Keeping close watch, broil until the top is golden and the cheese is melted (about 5 minutes).