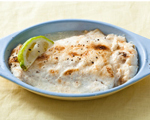 Prep: 15 min
Cook Time: 8 min
Total: 23 min
Serving: 4 Servings
An easy fish dinner recipe; serve this dish with a side of brown ice and mixed, steamed vegetables drizzled with olive oil and sprinkled with sea salt.
Ingredients
Olive oil
4 6-ounce fish fillets, such as sea trout, or cod
1/2 teaspoon fine salt
1/3 cup mayonnaise
1 teaspoon ground coriander
1 teaspoon ground cumin
1/2 teaspoon black pepper
1/4 teaspoon fine salt
Directions
Preheat the oven broiler and place the oven rack 8-inches away from the heat source.
Line a baking sheet with foil and then brush with some olive oil to coat.
Sprinkle each fillet with some salt and then place, skinned side down, on the prepared baking sheet.
In a small bowl, add the mayonnaise, coriander, cumin, pepper, and remaining ¼ teaspoon salt and stir to combine.
Spread the mayonnaise mixture onto the fish and then place the fish in the oven for 8 minutes. Serve warm.