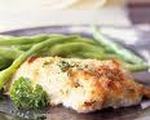 Prep: 10 min
Cook Time: 12 min
Total: 22 min
Serving: 4
Broiled Cod Steaks are garnished with lemon and orange slices.
Ingredients
1/2 cup mayonaise
1/2 teaspoon prepared mustard
1/4 teaspoon seasoned salt
1/8 teaspoon seasoned pepper
vegetable oil
4 small cod steaks, each cut 1/2 inch thick
1 small orange for garnish
1 small lemon for garnish
Directions
Preheat broiler. Lightly brush broiler rack with vegetable oil.
Meanwhile in small bowl, mix mayonaise, mustard, seasoned pepper and salt; set aside.
Place cod steaks on prepared broiler rack and position rack about 7 to 9 inches from heat source. Broil cod steaks for 7 minutes. Remove broiling pan from broiler; do not turn fish. Spread 1/4 of mayonaise mixture on each cod steak. Return pan to broiler; broil about 3 to 5 minutes longer or until cod flakes easily and topping is lightly browned and bubbly.
Thinly slice orange and lemon; cut each slice crosswise in half. Garnish cod steaks with slices.