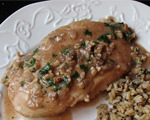 Prep: 6 hr 10 min
Cook Time: 30 min
Total: 6 hr 40 min
Serving: 5 pounds of chicken
Juicy pieces of chicken are first marinated in a lemon, garlic and tarragon blend and then broiled to perfection while being basted with a delicious walnut sauce.
Ingredients
2 chickens (2-1/2 pounds each), quartered, rinsed, and patted dry
Salt and freshly ground pepper
1/2 cup olive oil
3/4 cup plus 2 teaspoons fresh lemon juice
8 sprigs fresh tarragon, stems crushed with the back of a knife
1 cup walnuts, toasted
6 garlic cloves, coarsely chopped and divided
3 tablespoons minced cilantro
1/4 teaspoon ground coriander
1/4 teaspoon ground red pepper
1/4 teaspoon turmeric
1/4 teaspoon ground fenugreek
Directions
Put the 1/2 cup olive oil, a few pinches of salt and pepper, 3/4 cup lemon juice, 3 cloves of chopped garlic and the tarragon into a bowl and whisk vigorously until blended. Coat the chicken with the marinade, cover and then place into the refrigerator for at least 6 hours to marinate.
In the mealtime, place the walnuts and the remaining garlic into a food processor and process until the mixture is finely ground. Transfer the walnut mixture to a bowl and stir in the cilantro, remaining lemon juice, coriander, red pepper, turmeric and fenugreek.
Prepare the oven broiler.
Place the chicken on a greased broiling pan and cook about 3-4 inches from the heat, turning occasionally and basting frequently with the walnut sauce. Broil the chick for about 30 minutes or until the chicken runs clear. Serve immediately.