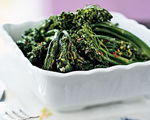 Prep: 5 min
Cook Time: 20 min
Total: 25 min
Serving: 4 Servings
Broccolini is a vegetable that looks like broccoli, only skinnier and longer, and has a sweet and tender taste with a bit of a broccoli-like bite. Try it raw, steamed or grilled and drizzled with olive oil as a wonderful side dish.
Ingredients
2 -1/2 pounds broccolini (about 4 bunches)
6 tablespoons (3/4 stick) butter
2 medium finely chopped shallots
1-1/2 garlic cloves, chopped
1/2 cup toasted pecans, coarsely chopped
Sea salt
Directions
Place a large pot of salted water over high heat and bring to a rolling boil. Add the broccolini to the hot water and boil for 2 minutes. Remove the broccolini with a slotted spoon and blot dry with paper towels.
In a large sauté pan, melt some butter over medium-high heat until just beginning to bubble. Saute the shallots, garlic and pecans for approximately 6 minutes; the shallots will become soft and the butter will be browned.
Toss the broccolini into the sauté pan and gently mix with the other ingredients, stirring frequently for 7 minutes.
Remove the broccolini from the pan and place in a serving bowl. Sprinkle with salt and pepper and serve.