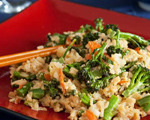 Prep: 10 min
Cook Time: 8 min
Total: 18 min
Serving: 4 Servings
Broccolini florets make the ideal base for this simple and tasty stir-fry. Use dark sesame oil to add richer and more intense sesame flavor.
Ingredients
2 cups broccolini florets
4 large eggs
2 tablespoons water
1 tablespoon minced peeled ginger
2 garlic cloves, minced
4 cups cooked long grain rice
1/4 cup carrots, shredded
1/4 cup chicken broth
2 tablespoons soy sauce
2 teaspoons dark sesame seed oil
1/4 teaspoon salt
2 tablespoons fish sauce
1/4 cup thinly sliced scallions
Directions
Put the eggs and the water into a small bowl, whisk vigorously to combine and then set aside.
Place the vegetable oil into a wok or a large sauté pan over high heat. Once it begins to shimmer, add the broccolini, carrots, garlic, ginger, sesame oil, salt and pepper, and stir-fry the mixture for 2 minutes.
Add the egg mixture, stir continuously to scramble the eggs, and then add the rice and cook for an additional 3 minutes.
Pour in the stock and the fish sauce; toss the mixture to combine and then serve immediately garnished with the sliced scallions.