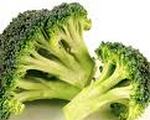 Prep: 15 min
Cook Time: 25 min
Total: 40 min
Serving: 6
Broccoli with Lemon Sauce will win over picky eaters and vegetable shunners.
Ingredients
3 pounds broccoli
2 eggs, separated
2 tablespoons heavy cream
2 tablespoons fresh lemon juice
4 tablespoons butter
boiling water and salt for cooking broccoli
Directions
Trim broccoli and wash thoroughly. Split each stalk lengthwise into halves or quarters, depending on size. Cover with boiling water and 1 teaspoon salt. Cook, covered, 10 minutes or until tender. Drain and keep warm.
Meanwhile, in top of double boiler, beat egg yolks with cream and 1/4 teaspoon salt until thickened and lightly colored. Gradually beat in lemon juice.
Place boiler over hot water; cook, beating constantly with wire whisk until mixture thickens slightly. Remove double boiler from heat, but leave top over hot water.
Add butter, 1/2 tablespoon at a time, beating well after each addition until butter is melted. Remove top from hot water.
In small bowl, beat egg whites until soft peaks form when beater is slowly raised. Fold into yolk mixture.
Arrange broccoli on heated serving platter. Top with sauce.