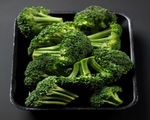 Prep: 15 min
Cook Time: 1 hr 10 min
Total: 1 hr 25 min
Serving: 4
This can be a great lunch or a side dish at dinner.
Ingredients
4 medium potatoes
2 cups broccoli, cut into bite size pieces
1 cup cheddar cheese, grated
1/2 teaspoon salt
sour cream and butter is optional
Directions
Wash and rub the potatoes with butter.
Place the potatoes in foil and sprinkle salt on them.
Place them in the oven and bake at 400 degrees F for 1 hour.
Steam the broccoli until just tender.
Remove potatoes from the oven.
With a mit or cloth hold the potatoe and cut it down the middle.
Pinch the sides towards the middle so it forms a boat.
Place the cooked broccoli in the boat.
Sprinkle with the cheese.
Serve.