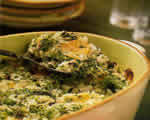 Prep: –
Cook Time: 30 min
Total: 30 min
Serving:
This cheesy, rice and broccoli casserole is easy and delicious, too! This is my favorite way to serve broccoli to my kids. With all the cheese, they don't seem to mind!
Ingredients
1 small onion, chopped
1/2 cup chopped celery
1 (10 ounce) package frozen chopped broccoli, thawed
1 tablespoon butter or margarine
1 (8 ounce) jar process cheese spread
1 can (10-3/4 ounce) condensed cream of mushroom soup, undiluted
1 (5 ounce) can evaporated milk
3 cups cooked rice
Directions
In a large skillet over medium heat, sauté onion, celery and broccoli in butter for 3 to 5 minutes. Stir in cheese, soup, and milk until smooth. Place rice in a greased 8 inch square baking dish. Pour cheese mixture over the top, do not stir.
Bake uncovered at 325°F for 25 to 30 minutes, or until hot and bubbly. I usually serve this with pork chops or chicken from the grill or oven.