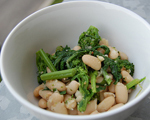 Prep: 15 min
Cook Time: 8 min
Total: 23 min
Serving: 4 Servings
This dish can be enjoyed alone or over your favorite pasta. The fabulous mix of ingredients make each bite a spicy burst of flavor.
Ingredients
1 pounds broccoli rabe, ends trimmed, coarsely chopped
2 tablespoons olive oil
3 tablespoons minced garlic
15 oz canned cannellini beans, rinsed and drained
2 tablespoons fresh lemon juice
Sea salt and freshly ground pepper to taste
Directions
Fill a large pot with salted water and boil over high heat.
Add the broccoli and boil for 3-4 minutes until just tender. Drain broccoli and set aside.
In a large sauté pan, add oil and sauté garlic on a low heat until fragrant, about 10 minutes. Make sure you stir the garlic and oil constantly to prevent browning.
Place beans in the sauté pan and stir to combine with the garlic.
Add the broccoli and the lemon juice to the pan and toss mixture to combine. Sprinkle with salt and freshly ground pepper and serve at once.