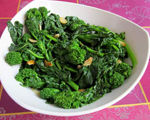 Prep: 5 min
Cook Time: 10 min
Total: 15 min
Serving: 4 Servings
Broccoli Rabe makes a healthy and delicious vegetarian side dish that will compliment your main entrée.
Ingredients
Water
salt
1 bunch broccoli rabe (about 14 ounces), tough ends trimmed
2 tablespoons olive oil
2 large garlic cloves, thinly sliced
Freshly ground pepper
Directions
Fill a large pot with water, add a few pinches of salt and then place the pot over high heat and bring to a boil.
Once boiling add the broccoli rabe, cook for 5 minutes and then drain.
In the meantime, place the olive oil in a large sauté pan over medium heat and sauté the garlic for 3 minutes.
Add the broccoli rabe to the sauté pan and cook for 1 minute. Season with salt and pepper and serve warm.