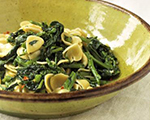 Prep: 15 min
Cook Time: 20 min
Total: 35 min
Serving: 4 Servings
Orecchiette is a type of pasta, typical of Southern Italy, that resembles small discs. Enjoy it in this recipe tossed with broccoli rabe, olive oil and garlic.
Ingredients
2 pounds broccoli rabe, trimmed and rinsed
4 tablespoons extra-virgin olive oil, divided
4 cloves garlic, very finely chopped
1/4 teaspoon crushed red pepper
Salt and freshly ground pepper
1 pound whole-wheat orecchiette pasta
Directions
Bring a large pot of salted water to a rolling boil over high heat and then add the broccoli rabe and cook for 4 minutes. Remove and transfer to a cold water bath, drain and coarsely chop. Set aside.
Cook the pasta in the water used to blanch the broccoli rabe according to package directions. Drain and place in a large serving bowl and then drizzle with 2 tablespoons of oil, tossing to coat.
Meanwhile in a large sauté pan, heat the remaining 2 tablespoons of oil over medium-high heat and then add the garlic and sauté for 3 minutes. Stir in the broccoli rabe, the red pepper, salt and pepper, and sauté for an additional 3 minutes.
Transfer the broccoli rabe mixture to the bowl with the pasta and toss to combine. Serve immediately.