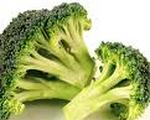 Prep: 10 min
Cook Time: 50 min
Total: 1 hr
Serving: 6
A deliciously different way to serve liver, Broccoli Liver Bake is dotted with mushrooms, onion and broccoli.
Ingredients
1 pound beef liver
flour
salt
butter
1/2 pound mushrooms, sliced
1 onion, diced
1 1/2 cups milk
1, 10 ounce package frozen chopped broccoli
1, 8 ounce package Velveeta, diced
toasted English muffins
Directions
Trim any membrane from beef liver. Cut into 1/4 inch thick slices. On waxed paper, combine 3 tablespoons flour and 1/2 teaspoon salt; coat liver with flour mixture.
In 12 inch skillet over medium heat, in 2 tablespoons butter or margarine, cook liver until browned; remove to 2 1/2 quart shallow baking dish; set aside.
Preheat oven to 350 degrees F. In same skillet in 2 tablespoons butter, cook mushrooms and onion until tender, stirring occasionally. Into mixture, stir 2 tablespoons flour and 1/2 teaspoon salt; cook 1 minute. Gradually stir in milk; cook, stirring; until thickened and smooth.
Add frozen chopped broccoli, separating broccoli with a fork; stir in Velveeta until smooth. Pour mixture over liver in baking dish. Bake 20 minutes or until liver is tender and mixture is hot. Serve over toasted English muffins.