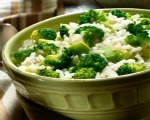 Prep: 10 min
Cook Time: 20 min
Total: 30 min
Serving: Serves 4 people
This gluten-free dish, broccoli, egg and rice scramble, is the perfect way to start your day. Hearty, healthy and delicious!
Ingredients
6 eggs
1 cup broccoli florets
2/3 cup cooked rice
1/4 cup chopped onion
1/4 cup butter
1/2 cup half and half
1 cup grated cheddar cheese
Salt and pepper to taste
Directions
Add the butter to a large saute pan over medium-high heat. Cook the onion until it is soft and golden. In a medium-sized bowl, beat the eggs and half and half together until they're combined thoroughly. Add the cheese, rice, broccoli, and salt and pepper to the mix, and gently combine.
Pour the egg mixture over the cooked eggs. Cover and cook on low heat, stirring often, until the egg mixture is set. Serve warm.