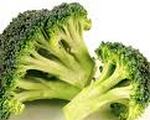 Prep: 30 min
Cook Time: 35 min
Total: 1 hr 5 min
Serving: 10-12
Broccoli Cheese Squares will be the hit of your next party.
Ingredients
2, 10 ounce packages frozen broccoli, thawed, drained and chopped
1 cup flour
1 cup milk
1 teaspoon baking powder
1 teaspoon salt
2 eggs
1/4 cup butter, melted
16 ounces Monterey Jack cheese, finely shredded
1 teaspoon garlic powder
dash of nutmeg
Directions
Beat eggs, adding milk, flour, baking powder, salt and garlic powder.
Add butter and blend in slowly. Fold in broccoli and grated cheese.
Pour into a greased 9 x 13 inch baking dish. Sprinkle with nutmeg.
Bake at 375 degrees F for 30-35 minutes. Cut into squares.