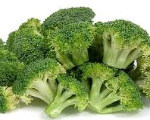 Prep: 3 hr
Cook Time: 10 min
Total: 3 hr 10 min
Serving: serves 6
Ingredients
1 envelope unflavored gelatin
1 can condensed consomme
salt and pepper to taste
3/4 cup mayonnaise
3 hard cooked eggs, sliced
Juice of 1 1/2 lemons
2 cups cooked broccoli florets
Directions
Combine the gelatin in 1/4 cup of the consomme. Stir into the rest of the consomme and heat until dissolved, sprinkle in salt and pepper as desired.
Allow to thicken to the consistency of raw egg whites.
Add in the mayonnaise, sliced eggs, broccoli and lemon juice.
Fill individual molds and refrigerate until firm.