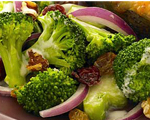 Prep: 5 min
Cook Time: 3 min
Total: 8 min
Serving: 4 Servings
A nice alternative to a typical side of steamed broccoli, this vegetarian recipe incorporates walnuts and a creamy buttermilk dressing.
Ingredients
1 bunch broccoli (about 1-1/2 lb), cut into florets
1 small red onion, thinly sliced
1/2 cup golden raisin and dried cherry mixture
1/2 cup buttermilk
2 tablespoons light mayonnaise
1 tablespoon cider vinegar
1 teaspoon sugar
1/4 teaspoon salt
1/2 cup toasted walnut pieces
Directions
Cut the broccoli stalks crosswise into 1/4-inch stalks.
Steam the broccoli in a steamer according to manufacturer's recommended cooking time, or steam in a steam basket over boiling water for 3 minutes.
Place the broccoli into a bowl and add the onion and the dried fruit. Toss to combine.
Place the buttermilk, mayonnaise, cider vinegar, sugar and salt in a small bowl and whisk together to combine.
Pour the dressing over the broccoli and toss to coat. Add the walnuts right before serving and toss once more.