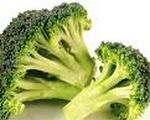 Prep: 10 min
Cook Time: 12 min
Total: 22 min
Serving: 6
Broccoli and Cauliflower with Citrus Vinaigrette is great for picky eaters and vegetarians.
Ingredients
1 head broccoli
1 head cauliflower
Vinaigrette: 2 tablespoons fresh lemon juice
2 garlic cloves, pressed
salt and freshly ground black pepper
6 tablespoons extra virgin olive oil
Directions
Wash broccoli and cauliflower. Trim the tough ends off the stalks. Chop the remaining cauliflower and broccoli into large pieces. Put water in the bottom of a large stockpot fitted with a steamer on the stove over high heat. Add the vegetables and steam until tender, 10 to 12 minutes.
To make the vinaigrette, place the lemon juice, garlic, salt and pepper to taste in a mixing cup. Add the olive oil in a slow stream, constantly whisking until the oil is emulsified.
When the vegetables are done, toss in the viniagrette and serve immediately.