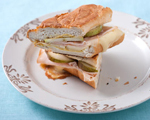 Prep: 5 min
Cook Time: 7 min
Total: 12 min
Serving: 1 Serving
If you don't have a Panini press don't worry. You can press the sandwich between two skillets to flatten and it will turn out just as good.
Ingredients
1 tablespoon mustard
1 6-inch piece baguette
2 ounces brie, without rind, thinly sliced
2 ounces sliced smoked turkey or leftover roast turkey
4 thin slices skin-on Bartlett or Bosc pear
1 teaspoon olive oil
Directions
Cut the baguette in halve, horizontally, with a sharp bread knife.
Spread the mustard on each cut side of the bread, and then layer one of the cut sides with half the cheese, turkey and the pear. Top the ingredients with the remaining cheese and then close the sandwich with the other bread slice.
Place the sandwich in a large skillet over medium-low heat, and then cover with another skillet. Carefully push on the top skillet and then place a can on top to weigh the skillet down.
Cook the Panini for 7 minutes and then serve immediately.