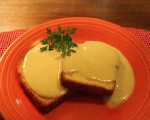 Prep: –
Cook Time: 15 min
Total: 15 min
Serving: 4 servings
Beerless rarebit fondue, with a funny name that kids will love as much as they do the fondue!
Ingredients
4 cups shredded cheddar cheese
1/2 cup apple cider
1 tablespoon cornstarch
1/2 teaspoon dry mustard
1/8 teaspoon garlic powder
1 teaspoon Worcestershire sauce
French bread, cut into bite-size pieces
Directions
Slowly heat the cheese and 5 tablespoons of the cider over low heat. Mix in the cornstarch and remaining cider.
Slowly add in the dry mustard, garlic powder and Worcestershire sauce, stirring until smooth.
Pour into a fondue pot or bowl and serve with the French bread pieces.