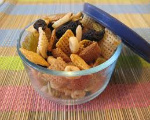 Prep: 10 min
Cook Time: 30 min
Total: 40 min
Serving: 2-4 servings
A fun and crunchy breakfast snack mix.
Ingredients
1/4 cup margarine, melted
1 tablespoon Worcestershire sauce
1/2 cup crispy corn Chex cereal
1/2 cup crisy wheat Chex cereal
1/2 cup unsalted roasted peanuts, chopped
1/4 cup raisins
1/8 teaspoon garlic or onion powder
Directions
Preheat the oven to 325 degrees Fahrenheit.
Combine the margarine and Worcestershire sauce.
Mix together the remaining ingredients in a large bowl. Drizzle the margarine mixture over and toss to coat well.
Pour onto a baking sheet and bake, stirring occasionally, for 25-30 minutes, or until lightly toasted.