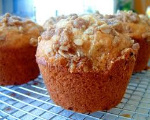 Prep: 10 min
Cook Time: 25 min
Total: 35 min
Serving: 1 dozen
A complete breakfast baked into a muffin!
Ingredients
paper muffin liners
1 1/2 cups oats
1 1/4 cups flour
3/4 teaspoon ground cinnamon
1 teaspoon baking powder
3/4 teaspoon baking soda
1 cup applesauce
1/2 cup skim milk
1/3 cup firmly packed light brown sugar
3 tablespoons vegetable oil
1 egg white
Directions
Preheat the oven to 400 degrees Fahrenheit. Place the liners in a muffin pan/
Mix together the oats, flour, cinnamon, baking powder and baking soda.
Stir in the remaining ingredients until moistened.
Fill the liners to almost full. Bake for 20-25 minutes, or until golden.