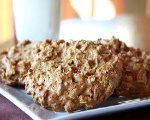 Prep: 15 min
Cook Time: 12 min
Total: 27 min
Serving: 3 dozen
Who doesn't love cookies for breakfast? (Espeically moms when they are this nutritious.)
Ingredients
Vegetable oil spray
1/2 cup margarine, softened
1/3 cup honey
1 egg
1/3 cup whole-bran cereal
1/4 cup orange juice
1 1/2 teaspoons vanilla extract
1 cup flour
1 teaspoon baking powder
1/2 teaspoon baking soda
1/4 teaspoon salt
1/3 cup nonfat dry milk
1 cup rolled oats
1 cup chopped nuts
1 cup raisins
Directions
Preheat the oven to 350 degrees Fahrenheit. Grease 2 cookies sheets with the vegetable oil spray.
Cream together the margarine and honey. Mix in the eggs, beating. Stir in the bran, juice and vanilla, mixing well.
Add in the flour, baking powder, baking soda, salt, dry milk and oats. Stir until well mixed. Fold in the nuts and raisins.
Use a tablespoon to drop the dough 2 inches apart onto the prepared sheets.
Bake for 10-12 minutes or until golden.