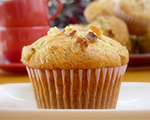 Prep: 15 min
Cook Time: 15 min
Total: 30 min
Serving: 12 muffins
These healthy muffins are great to grab for breakfast on the run, as well as for an afterschool snack.
Ingredients
1-1/2 cups all-purpose flour
1/2 cup whole wheat flour or wheat bran
2 teaspoons baking powder
1/2 teaspoon baking soda
1/4 teaspoon salt
1 teaspoon cinnamon
1/8 teaspoon grated nutmeg
2/3 cup coarsely chopped walnuts.
1 large egg
3/4 cup packed light brown sugar
1-1/3 cups mashed bananas (2-3)
1/3 cup vegetable oil
1 teaspoon vanilla
Directions
Preheat the oven to 375 degrees and line a 12-muffin tin with paper liners.
In a large bowl whisk together the flour, baking powder, baking soda, salt, cinnamon and nutmeg with a whisk until blended, and then stir in the walnuts.
In another large bowl, place the egg, sugar, bananas, oil and vanilla, and whisk together to combine.
Fold the flour mixture into the egg mixture and mix until just combined, careful not to overmix.
Pour the batter into the prepared muffin tin and then bake for about 15 minutes or until a toothpick inserted into the center of a muffin tests clean.
Let the muffins stand for 4 minutes before removing from the tin.