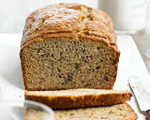 Prep: 1 hr 10 min
Cook Time: –
Total: 1 hr 10 min
Serving: Makes one 9x5x3-inch loaf
For those who only can enjoy their breakfast on the run, try this moist and sweet banana bread alone or lightly toasted and spread with a pat of real butter.
Ingredients
2 cups all-purpose flour
1-1/2 teaspoons baking powder
1/2 teaspoon baking soda
1/2 teaspoon ground cinnamon
1/4 teaspoon salt
1/4 teaspoon ground nutmeg
1/8 teaspoon ground ginger
2 eggs, lightly beaten
1-1/2 cups mashed banana (4 to 5 medium)
1 cup sugar
1/2 cup cooking oil or melted butter
1/4 cup chopped walnuts
Directions
Preheat your oven to 350 degrees and grease one 9x5x3-inch loaf pan with butter or olive oil.
Place the flour, baking powder, baking soda, cinnamon, salt, nutmeg, and ginger into a large bowl and stir to combine.
In another bowl, mix the eggs, mashed bananas, sugar, and oil until thoroughly blended. Make a well in the middle of the dry mixture and then add the egg mixture. Mix until just combined and then gently fold in the walnuts.
Transfer the batter to the prepared loaf pan and place in the oven for about 1 hour or until a toothpick inserted into the center tests clean.
Remove the bread and cook for 10 minutes before serving.