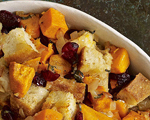 Prep: –
Cook Time: 1 hr 10 min
Total: 1 hr 10 min
Serving: Serves 10
Your Thanksgiving Day stuffing won't be the same with this delectable mix of sweet potatoes and tangy cranberries.
Ingredients
1/4 cup butter
1 large onion, chopped
1 pound peeled sweet potatoes, cut into 1/2-inch cubes or 30 ounces canned sweet potatoes
2 tablespoons maple syrup
1 cup dried cranberries
2 tablespoons chopped fresh sage
1 teaspoon salt
1-1/2 teaspoons freshly ground black pepper
8 cups bread, cut into 1/2-inch cubes
1-3/4 cups chicken broth
Directions
Heat your oven to 350 degrees and grease a 9x13-inch baking dish with butter and set aside.
In a large Dutch oven, heat 3 tablespoons of butter and sauté the onion until soft and translucent over medium-high heat.
Add the potatoes to the onions and reduce heat to medium. Sauté until the potatoes are soft; approximately 20 minutes.
Mix in the maple syrup, cranberries and 2 tablespoons of water and cook about 3 minutes until cranberries become plump. Sprinkle in the sage, salt and pepper and stir well. Cook 1 more minute.
Take Dutch oven off of heat and add in the bread cubes and broth. Transfer mixture to the prepared baking dish and dot with remaining butter. Place in oven and bake until the top of the mixture is golden brown, about 35 minutes. Serve immediately.