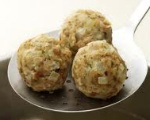 Prep: 10 min
Cook Time: 10 min
Total: 20 min
Serving: 14-16 dumplings
Delicious, from scratch, dumplings
Ingredients
3 cups 1/2 inch stale bread, trimmed of crusts
1/4 cup unsifted flour
1 teaspoon salt
1/8 teaspoon pepper
1/4 teaspoon baking powder
1/8 teaspoon nutmeg
1 tablespoon minced parsley
2 tablespoons minced yellow onion
1/4 cup milk
1 egg, lightly beaten
1 tablespoon melted butter or margarine
Directions
Combine all the ingredients, let stand 5 minutes, then mix again.
Drop by rounded teaspoon fulls into a little bit of flour. Roll into balls.
Drop into soup or stew just as it starts to boil, no more than 1 layer deep. Simmer uncovered for 5 minutes, then covered for 2-3 more minutes.