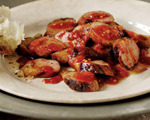 Prep: 10 min
Cook Time: 20 hr
Total: 20 hr 10 min
Serving: 4 Servings
You can use either cooked or uncooked weisswurst (white sausage) for this Bratwurst with Curry Sauce dish. Both varieties taste equally as good, but require slightly different grilling times.
Ingredients
2 tablespoons vegetable oil
1/4 cup very finely minced white onion
1 teaspoon mustard seeds or dry mustard
1 tablespoon curry powder
1/2 teaspoon freshly ground black pepper
1/4 teaspoon freshly grated nutmeg
1/4 teaspoon anise seed
1 cup ketchup
4 weisswurst , cooked or uncooked white veal sausages (about 1-1/2 pounds total)
Directions
Prepare the grill on medium-high heat and brush the grill grates with oil.
Place 1 tablespoon of the oil into a saucepan over medium heat. Once hot, add the onion and the mustard seed and cook the mixture, stirring frequently, for 4 minutes.
Add the curry powder, pepper, nutmeg, and aniseed to the pan and cook for an additional minute before stirring in the ketchup and cooking the mixture for 4 minutes.
Place the sausage on the hot grill and cook for 2 minutes if pre-cooked, or 10 minutes if uncooked. Turn frequently to ensure even browning.
Remove the sausage from the grill and cut into 1/4-inch slices. Serve the sausage topped with the curry sauce.