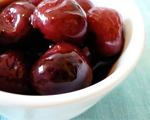 Prep: 30 min
Cook Time: 6 min
Total: 36 min
Serving: Makes 1-1/2 pound brandied cherries
Unfortunately store-bought cocktail cherries are loaded with preservatives, artificial colors and flavors. Luckily, making your own brandied cherries has never been easier.
Ingredients
1-1/2 pounds dark, sweet cherries, pitted
scant 1/4 cup sugar
1/4 cup water
1/2 ounce fresh lemon juice
1 small cinnamon stick
1/4 cup + 1/2 ounce brandy
Directions
Place the sugar, water, lemon juice, and cinnamon stick into a saucepan over high heat and bring to a boil. Reduce the heat to medium-low and simmer the cherries for 6 minutes.
Remove the pan from the heat and take out the cinnamon stick and discard. Stir in the brandy and allow the mixture to cool before transferring the cherries to a jar.