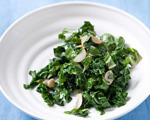 Prep: 5 min
Cook Time: 7 min
Total: 12 min
Serving: 4 Servings
Braising is a French culinary technique where a main ingredient is first seared or browned in fat, and then simmered in a liquid over low heat in a covered pan. Try it with this simple side dish recipe made with swiss chard.
Ingredients
1 pound Swiss chard, coarsely chopped
1 tablespoon olive oil
1 clove garlic
1/2 cup water
1/4 teaspoon salt
1/4 teaspoon pepper
Directions
Place the olive oil in a large sauté pan over medium-high heat. Once it begins to shimmer, add the chopped chard, garlic and the salt and pepper and cook, stirring frequently, for 1 minute.
Reduce the heat to medium-low and then stir in the water. Cover the pan and cook for 6 minutes until chard is tender. Serve immediately.