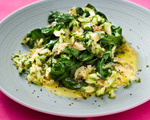 Prep: 10 min
Cook Time: 22 min
Total: 32 min
Serving: 5 Servings
Use the leaves, stems and the ribs of the kale for this extremely nutritious and simple side dish recipe. Its sharp and garlicky flavor pairs well with braised, grilled and roasted meats.
Ingredients
1 bunch kale
3 tablespoons extra-virgin olive oil
2 cloves garlic, finely chopped
1 cup water
Sea salt and freshly ground black pepper
Directions
Thinly slice all of the kale and then place the stems and ribs in a large sauté pan with the olive oil; add a few generous pinches of salt and pepper.
Cook the kale, covered, over medium-low heat for 6 minutes. Uncover the pan, add the garlic and cook for an additional 1 minute. Stir in the water and the kale leaves and cook the mixture, covered, for 15 minutes. Sprinkle with some additional salt and pepper and serve immediately.