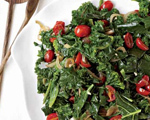 Prep: 10 min
Cook Time: 20 min
Total: 30 min
Serving: 6 Servings
This vibrant green side dish dotted with flashes of red from the addition of tomatoes and jalapeno, is a wonderful compliment to grilled meats and fish. Use a sturdy variety of greens such as chard mustard greens, kale or young collards.
Ingredients
1/2 cup extra-virgin olive oil
1 large onion, thinly sliced
2 cloves garlic, minced
1 large jalapeño, seeded and sliced
2 pounds sturdy greens, stems and inner ribs removed leaves coarsely chopped
Salt and freshly ground pepper
1 pint grape tomatoes, halved
3/4 cup water
2 tablespoons white wine vinegar
Directions
Place the olive oil in a large pot over medium heat. Once hot, add the onion, garlic and jalapeño and cook for 7 minutes, stirring frequently.
Stir the greens into the pot and then sprinkle with a few pinches of salt and pepper. Cook for a few minutes until wilted, and then add the tomatoes, water and vinegar and simmer over low heat for about 12 minutes or until the tomatoes soften. Serve immediately.