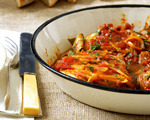 Prep: 10 min
Cook Time: 20 min
Total: 30 min
Serving: 4 Servings
This recipe for braised fish has a wonderful tomato-based sauce made from fresh herbs, spices and garlic. Serve with thick slices of rustic-style bread for dipping in the sauce.
Ingredients
4 5-6 ounce portions mahi-mahi or yellowtail, skinned, filleted, rinsed and patted dry
Sea salt and freshly ground black pepper, to taste
2 tablespoons olive oil
1 onion, thinly sliced
2 cloves garlic, crushed
1 14 ounce can Italian tomatoes, chopped
1/4 cup chopped fresh herbs (such as parsley, coriander, dill and chives)
1 bay leaf
Directions
Place the olive oil in a large sauté pan over medium-high heat. Once it begins to shimmer, add the fish fillets and sear for 2 minutes on each side. Transfer the fish to a plate and set aside.
Add the onions to the hot pan, sauté for 5 minutes over medium heat, and then add the garlic, tomatoes, half of the herbs and the bay leaf; bring the mixture to a simmer and then cook for 5 minutes. Return the fish to the pan, cover and cook over medium-low heat for an additional 6 minutes.
Add a few pinches of salt and pepper to the mixture and then sprinkle with the remaining herbs; serve immediately.