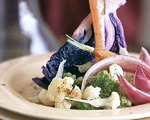 Prep: 10 min
Cook Time: 15 min
Total: 25 min
Serving: Makes 6 to 8 Servings
A mix of fall vegetables, such as red cabbage, carrots, cauliflower and onion, make a delicious and attractive dish when braised with butter and seasoned with spices such as cardamom, sea salt and freshly ground black pepper.
Ingredients
2-1/2 tablespoons butter
1/2 of a medium head red cabbage (about 1 pound), cut into 6 wedges
12 whole baby carrots or 3 medium carrots, quartered lengthwise and halved crosswise
2 cups cauliflower florets
1 medium red onion, cut into wedges
1/4 cup water
2 tablespoons vinegar
1/4 teaspoon sea salt
1/4 teaspoon ground cardamom
1/4 teaspoon black pepper
Directions
Place the butter into a large sauté pan over medium heat. Once melted, add the cabbage and the carrots, toss to coat with the butter and then cook, covered, for 4 minutes, stirring occasionally.
Add the cauliflower, onion, water, vinegar, salt, cardamom and black pepper to the pan, gently stir to combine, and then cover the mixture and cook for 8 minutes.