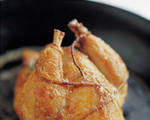 Prep: 20 min
Cook Time: 1 hr 15 min
Total: 1 hr 35 min
Serving: 7
Braised Chicken and Vegetables with Brown Rice is a great one pot meal.
Ingredients
1 cup brown rice
3 tablespoons vegetable oil
1, 3 pound broiler-fryer chicken, cut up
1/2 pound small white onions
6 carrots, cut into 1 inch pieces
1 chicken flavor bouillon cube
2 cups water
1 teaspoon salt
1/4 teaspoon coarsely ground black pepper
1/8 teaspoon ground sage
1 medium bunch broccoli, cut into 3 inch by 1 inch pieces
1/2 cup milk
1 tablespoon flour
Directions
Prepare brown rice as directed on package.
Meanwhile, in 5 quart Dutch oven over medium heat, in hot oil, cook chicken, a few pieces at a time, until browned on all sides, removing pieces as they brown to a medium bowl.
In drippings remaining in Dutch oven, cook onions until browned, stirring occasionally. Return chicken to Dutch oven. Add carrots, bouillon, water, salt, pepper and sage. Over high heat, heat to boiling, stirring to loosen brown bits from bottom of pan. Reduce heat to low; cover and simmer 20 minutes. Add broccoli; cook 15 to 20 minutes longer until chicken and vegetables are tender.
Spoon rice onto warm platter. With slotted spoon, remove chicken and vegetables to platter with rice.
Skim off fat from liquid in Dutch oven. In cup, stir milk and flour; stir into simmering liquid in Dutch oven. Cook over medium heat until gravy is slightly thickened. Serve gravy in small bowl to spoon over chicken, vegetables and rice.