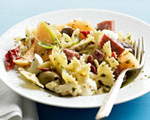 Prep: 10 min
Cook Time: 10 min
Total: 20 min
Serving: 4 Servings
This Italian-inspired dish uses many of the ingredients of a traditional antipasto to make a hearty one-meal dinner dish. Serve with fresh peasant bread and a glass of dolcetta d'alba.
Ingredients
4 ounces dried bow ties (about 2 cups)
1 12-ounce jar marinated artichoke salad, drain but reserve 1/4 cup of the liquid
1 tablespoon olive oil
1 teaspoon dried Italian seasoning, crushed
1/2 of a medium cantaloupe, peeled and cut into small wedges
6 ounces salami, chopped
4 ounces bocconchini, halved (small fresh mozzarella balls)
Salt and freshly ground black pepper
Directions
Prepare the pasta according to package directions, drain and place in a large bowl.
Place the reserved artichoke liquid in a small bowl with the olive oil and the seasonings. Whisk to combine.
Add the artichoke salad, cantaloupe, salami and bocconchini to the bowl with the pasta, sprinkle with some salt and pepper and then drizzle with the olive oil mixture. Gently toss to combine and serve.