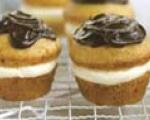 Prep: 20 min
Cook Time: 25 min
Total: 45 min
Serving: 12
Try reinventing the classic Boston Cream Pie recipes to make cupcakes for your next gathering!
Ingredients
1 3/4 cups, plus 2 tablespoons milk, divided
2 tablespoons cornstarch
9 egg yolks, room temperature
1/3 cup plus 1 1/4 cups granulated sugar
11 tablespoons unsalted butter, softened
1 teaspoon vanilla extract
1/8 teaspoon plus 1/2 teaspoon salt
2 1/2 cups flour
2 1/2 teaspoons baking powder
1 vanilla bean, split
2/3 cup heavy cream
8 ounces semisweet chocolate, finely chopped
Directions
To make filling, whisk 1/4 cup milk with cornstarch until smooth. Whisk in 3 egg yolks.
Pour 3/4 cup milk in a small pot and mix in 1/3 cup sugar.
Bring mixture to a boil, stirring often.
Take pot off of heat and slowly pour half of the mixture into the egg mixture, stirring the whole time.
Pour the entire mixture back into the pot and bring to a boil, stirring continually so the eggs don't scramble.
Take pot off of heat and stir in 1 tablespoon butter, vanilla and 1/8 teaspoon salt.
Spoon mixture into a bowl and chill until cool and thick.
To make cupcakes, preheat oven to 350 degrees F. and line a cupcake tin with paper liners.
Combine flour with baking powder and 1/4 teaspoon salt in one bowl. In another bowl, combine 1-1/4 cups sugar with the seeds of the vanilla bean.
Beat 10 tablespoons butter with vanilla sugar mixture until combined.
Beat in 6 egg yolks, 2 at a time then gradually beat in flour mixture and 3/4 cup plus 2 tablespoons milk.
Pour half of the batter into prepared cupcake tin. Spoon filling on top of batter and then pour the rest of the batter on top of the filling.
Bake cupcakes 25 minutes or until golden brown. Let cool while making frosting.
Add cream to a pot and heat. Take pot off of heat and stir in chocolate until melted and well combined.
Let cool for a few minutes then drizzle chocolate over cooled cupcakes. Chill until ready to serve.