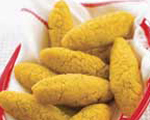 Prep: 15 min
Cook Time: 35 min
Total: 50 min
Serving: About 1 dozen
An old Boston tradition, these oval cornmeal cakes date back to the Civil War. Enjoy warm and slathered with butter.
Ingredients
5 cups water
2 cups corn meal
1/4 pound butter (1 stick)
1/2 tablespoon salt
Butter or cooking spray to grease oven sheet.
Directions
Preheat oven to 400 degrees and grease an oven sheet with butter or cooking spray.
In a large saucepan, combine the water, butter and salt and bring to a rolling boil.
Remove the pan from the heat and quickly add the cornmeal, whisking briskly until mixture thickens.
Using a large spoon, place heaping tablespoons of the mixture on the prepared oven sheet and then bake for 20 minutes. Flip and then cook for an additional 15 minutes until golden brown.
Remove from oven and allow to cool for 5 minutes before serving with butter.