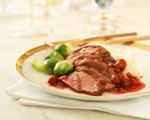 Prep: 10 min
Cook Time: 8 min
Total: 18 min
Serving: 4
Duck is a nice change of pace from chicken and beef.
Ingredients
1 tablespoon chopped ginger root
1 tablespoon soy sauce
3 cloves garlic minced
1 teaspoon sesame oil
1/2 teaspoon ground cinnamon
1 pound boneless duck breast
1 tablespoon chopped mango chutney
2 cups hot cooked rice
Directions
Place ginger, soy sauce, garlic, oil and cinnamon in a plastic bag.
Rinse the duck and add to the bag.
Seal the bag and marinate for 24 hours in the refrigerator.
Spray your grill with non stick spray.
Light the grill according to the manufacturer's instructions.
Place the rack on the grill.
Remove the duck from the bag and place on the rack.
Cover and grill for 4 minutes.
Turn the duck over and spoon the chutney over each breast.
Cover and grill for 4 minutes more.
Serve over a bed of rice.