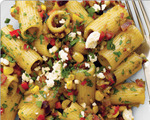 Prep: 35 min
Cook Time: 40 min
Total: 1 hr 15 min
Serving:
We made only a few tweaks to this bolognese green chile chorizo pasta recipe to make it a healthy dinner option.
Ingredients
1-1⁄2 pounds fresh New Mexico green chiles (or substitute 3/4 pound green chiles and 3/4 pound cubanelle peppers)
1 tablespoon olive oil
2 cloves minced garlic
1⁄2 cup finely diced celery
1⁄2 cup finely diced red onion
1⁄2 cup corn kernels
1⁄2 red bell pepper, cored, seeded, and finely diced
8 ounces minced turkey chorizo (or turkey kielbasa)
1-1⁄2 tablespoon agave nectar (or honey)
12 ounces rigatoni pasta
Kosher salt
1⁄2 cup chopped fresh cilantro
1 cup shaved or grated Mexican cotija cheese (or substitute Romano)
Directions
Arrange oven rack 4 inches from broiler and preheat. Place green chiles on a baking sheet and broil, turning often, for 20 minutes or until charred all over. Transfer green chiles to a paper bag and roll shut, letting chiles "steam" until cool. Remove green chiles from bag and remove skin, stems, and seeds. Transfer to a blender and add 2/3 cup water. Purée until smooth.
Bring a large pot of water to a boil. Heat oil in a medium skillet over medium heat. Add garlic, celery, onion, corn, red pepper, and chorizo. Sauté 10 minutes, then add green chile purée and agave. Reduce heat to medium-low.
Add rigatoni to boiling water. Simmer Bolognese sauce while pasta cooks for about 7 minutes or until al dente. Drain pasta and season sauce with salt. Divide pasta among 6 plates. Top with an even portion of Bolognese sauce, and garnish with cilantro and cheese.