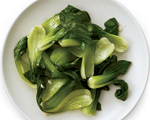 Prep: 10 min
Cook Time: 4 min
Total: 14 min
Serving:
Sometimes the simplest combinations with the fewest ingredients taste the best. Try this quick and healthy Asian side dish.
Ingredients
1/2 cup chicken stock
2 teaspoons cornstarch
1 tablespoon olive oil
2 cloves garlic, minced
2 pounds baby bok choy left whole
Salt and freshly ground pepper
Directions
Place the chicken stock and the cornstarch in a small bowl, and whisk together until combined.
Place the oil into a large sauté pan over high heat, and add the garlic once the oil becomes hot. Cook the garlic for 20 seconds, and then add the bok choy and sauté the mixture for 2 minutes.
Pour the stock mixture into the pan and cook for 40 seconds while stirring.
Sprinkle the mixture with some salt and pepper, and then transfer to a serving plate.