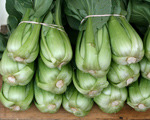 Prep: 10 min
Cook Time: 10 min
Total: 20 min
Serving: 4 Servings
This dish merges the popular Chinese vegetable, Bok Choy, with the equally as renowned French equivalent of sour cream, crème fraiche, in a creamy and slightly tang side dish recipe.
Ingredients
1-1/3 pounds bok choy, coarsely shredded
1/3 cup crème fraîche
1 clove garlic, crushed
Sea salt and freshly ground black pepper, to taste
Directions
Place a small pot of salted water over high heat to boil. Once boiling, add the bok choy and blanch for 4 minutes. Remove the bok choy from the pot with a slotted spoon, rinse with cold water and then squeeze to remove any liquid.
Transfer the bok choy to a large sauté pan and place over medium heat. Add the crème fraiche, garlic and a few generous pinches of salt and pepper; stir the mixture to combine and then heat through before serving.