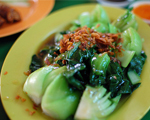 Prep: 20 min
Cook Time: 10 min
Total: 30 min
Serving: Serves 4
Bok Choy is a Chinese vegetable that is classified as a cabbage, but looks more like a cross between celery and lettuce. With its mildly spicy flavor it's especially tasty in stir fries, soups and steamed dishes.
Ingredients
6 Bok Choy
30 grams King Oyster mushrooms
2 tablespoon olive oil
1 teaspoon salt
1/2 teaspoon ginger, chopped finely
1 spring onion, chopped finely
30 grams King Oyster mushrooms
2 tablespoons Oyster sauce
1 teaspoon sugar
1 tablespoon wine
5 tablespoons vegetable stock
Directions
Wash the bok choy and cut lengthwise into four parts. Wipe off the mushrooms and slice.
In a large pot, boil 4 cups of water. Blanch bok choy for 30 seconds in the boiling water, immediately remove and drain.
Put 1 tablespoon of olive oil into a large sauté pan on high heat. Add bok choy when pan is hot and sprinkle with salt. Fry for 1 minute and then remove from pan; set aside.
Add another tablespoon of oil to the sauté pan or wok. Add the ginger, spring onion and the mushrooms and stir fry for 1 minute.
Mix in the oyster sauce, a pinch of salt, sugar, wine and vegetable stock, and bring to a boil. Add the cornstarch and cook for 1 more minute. Pour over bok choy and serve immediately.