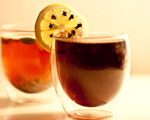 Prep: 5 min
Cook Time: 10 min
Total: 15 min
Serving: 1 Serving
This cocktail was inspired by Bob Cratchit's recipe in A Christmas Carol. A truly perfect warm beverage to serve guests at your next holiday gathering, make sure to use ginger beer which adds an enjoyable touch of effervescence.
Ingredients
1 Dried lemon peel
1/2 Dried orange peel
20 Whole cloves
1/2 teaspoon Coriander seeds
1 teaspoon dried pomegranate seeds
10 green cardamom pods
10 Juniper berries
2 two-inch pieces of cinnamon
1 pint of water
Beefeater 24 Gin
Ginger beer
Directions
Place all of the ingredients, except for the Beefeater 24 Gin and ginger beer, into a saucepan and simmer over medium heat for 10 minutes.
Pour the Beefeater 24 Gin into a cup and then add strain in the hot liquid. Top the drink with the ginger beer and serve.