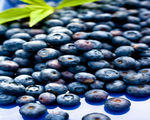 Prep: 15 min
Cook Time: 40 min
Total: 55 min
Serving: 8
Brace yourself for this bold medley of blueberries and thyme. Fresh thyme leaves are the secret ingredient that will keep your dessert guests wooing and wondering. Substituting dried thyme just isn't the same.
Ingredients
4 cups frozen blueberries (or fresh)
2 tablespoons sugar
Juice of a lemon (about 3 tablespoons)
½ cup fresh thyme leaves removed from the stem
2 tablespoons flour
1 (9 inch) unbaked pie shell
½ cup toasted sliced almonds
½ cup half and half
Directions
Preheat oven to 400 degrees F.
Keep pie shell in refrigerator while preparing berry filling.
Place frozen berries in a microwave safe bowl and microwave on HIGH for 5 minutes to thaw.
Stir berries and continue to microwave for another 2 to 3 minutes until their juices release.
If using fresh berries, reduce total microwave time to 3 to 5 minutes.
Mix in sugar, lemon juice, thyme leaves, and flour. Mixture should be warm.
If not, microwave for 1 to 2 more minutes.
Pour into pie shell and bake until filling is bubbly and looks set, about 40 minutes.
Use a crust guard or add foil to edges of crust towards the end of cooking if it browns too quickly. Remove from oven and let cool on a wire rack until ready to serve.